JOHN CUSACK FOR PRESIDENT!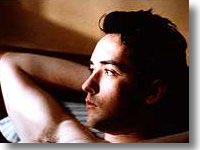 John Cusack. *Sigh* He's funny, talented, and was LLOYD DOBLER in Say Anything which is only the best movie out of the eighties. He's from Chicago, my home town!
WHY HE SHOULD BE PRESIDENT
He's tall (6'3")
He directs, produces, writes, AND acts
He's from Chicago
He looks good shirtless.
He seems like a nice, clean cut fellow.
He was in Say Anything for crying out loud.
BIO Born on June 28, 1966, John Cusack is the brother of Joan Cusack. I dunno, these links have more info than I do.
Bio, pics, news, etc.
More Cusack info
Blah, blah, blah
More coming soon. I promise.