JEREMY NORTHAM FOR PRESIDENT!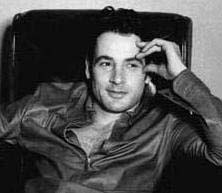 Is he not the hottest? So beautiful. He's dashing, he's just gorgeous. Did you see him in Gloria, he was evil!! The movie sucked by the way, don't go and see it. And...and...and he has a British accent. What else does one need? Air? Maybe.
REASONS WHY J. NORTHAM SHOULD BE PRESIDENT:
He has a British accent
He can play EVIL!
He can act, gosh darnit.
He's beautiful.
I mean, he's just beautiful.
---
I could give you a short bio, but who needs one? Look at him. Who needs to know anything? Well, let's see. He was born on December 1, 1961. He's also rumored to be born in 1962. Who knows. Who cares? When you look like that, does it matter when you were born? I dunno what else to say. Um...he was in Hamlet and my English teacher is making me read that right now. I don't get that. Hamlet, get over your mother! Your thirty, grow up!
---
THE LINKS
This is a really nice site. Very extensive, lots of information, plus I stole some piccies. Thanks!
V. nice site with everything including sound clips so you can hear him in all his glory.

Mystery Link

I'd give this site a link, but they were anal and wouldn't let me steal pictures. PEOPLE WHO ARE POSSESSIVE DON'T DESERVE LINKS!
Nice bio on "rising British star" Jeremy Northam.
The woman who runs this has done some v. cute things with pictures. You should take the time just to see them.
You know, usually I'm not into facial hair (that's why the two pics I chose show him clean shaven), but I do have to say that he does look good with that cute little goatee thing. Check it out for yourself. Trust me, you'll thank me later.